The Ultimate Guide of National Parks in India
On the edge of your seats, with bated breath, you wait for the king of the jungle to show up! National parks, wildlife sanctuaries and game reserves of India can claim to offer enthusiastic travelers a tryst with the wild, as well as the excitement of coming face to face with wild animals, and that too in their natural habitat.
There are nearly 400 such national parks in India, and each one of them has something unique to offer, be it the tiger or lion sightings, rhino or elephant spotting, or any of the other predators and prey animals!
Take a look at this list of the best national parks and wildlife sanctuaries in India, before you decide to go on a wildlife watching spree.
Ranthambhore National Park
Ranthambore National Park is located at a distance of 158 km from Jaipur in the Sawai Madhopur district of Southeastern Rajasthan. It covers an area of about 392 sq km, surrounded by other sanctuaries like Mansingh Sanctuary & Kaila Devi Sanctuary. It is the biggest National Park in Northern India and one among the prominent Wildlife tourist spots of India.
With its rich flora and fauna, varied species of animals & birds and unique wilderness can be considered as a treat for many wildlife lovers and photographers. It is known to be the best tiger spotting location of India as the park is majorly inhabited by the royal predators.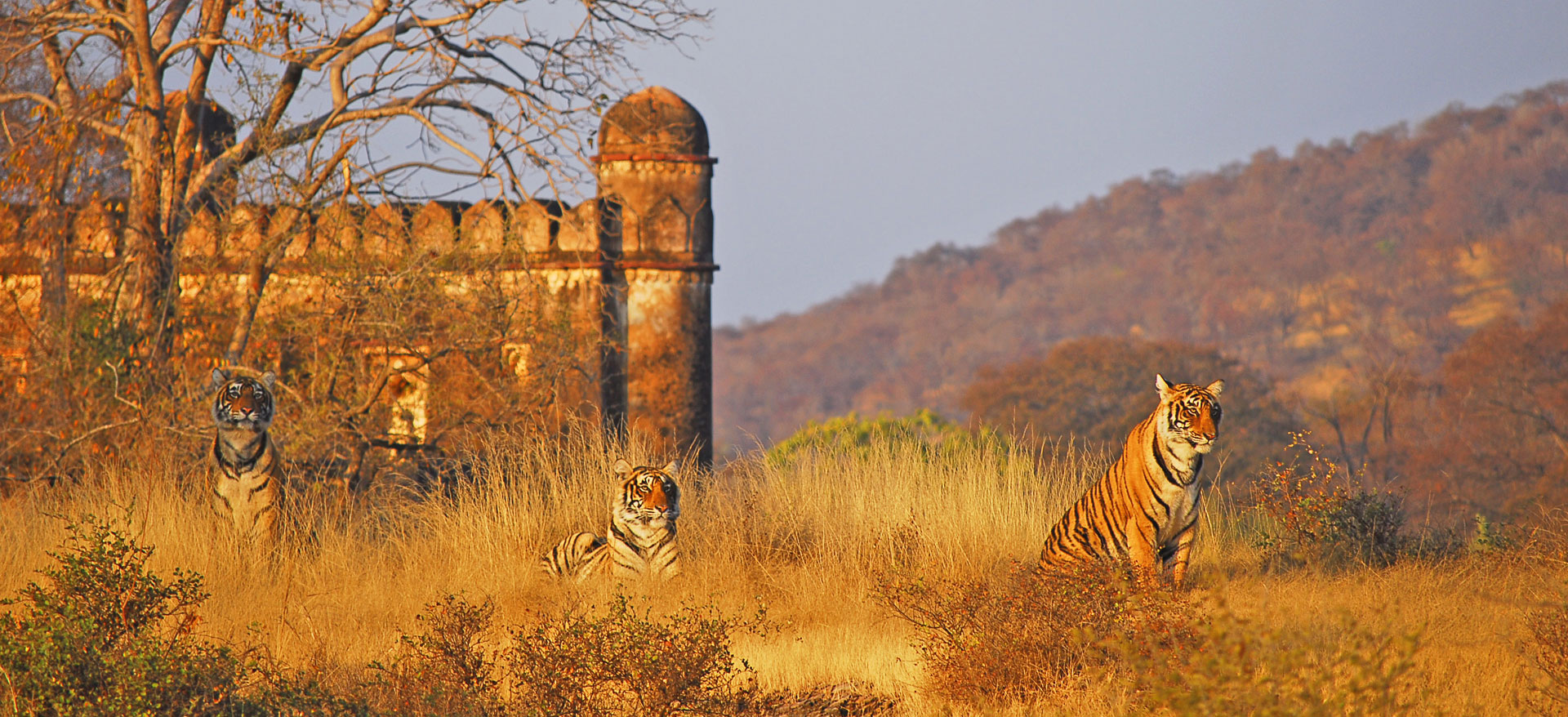 Jim Corbett National Park
Jim Corbett National Park is a Project Tiger Reserve situated in the Nainital, Uttarakhand. It was established in 1936 as Hailey National Park. It is the oldest National Park of India. It is also famous as the first Project Tiger was first launched here in the year 1973. This National Park is a home to more than 650 endangered species of birds and other animals, elephants and four to five species of deer.
It covers an area of about 520 square kilometers, comprising of hills, marshy land, large lake, riverine belts and grasslands. Corbett National Park allows overnight stays to its visitors. To move around within the National Park for watching nature and wildlife, take on a Jeep Safari or an elephant Safari.

Bandhavgarh National Park
Bandhavgarh National Park is situated in the Umaria district of Eastern Madhya Pradesh (Central India). It covers an area of 450 Square Kilometers and is known for its spectacular collection of flora and fauna. It is a home to more than 250 species of birds and 22 different species of mammals. The vegetation of Bandhavgarh National Park includes tall grasslands and thick Sal forest.
Bandhavgarh National Park has three major zones named – Tala, Bamera and Magdi. Among these the Tala zone attracts more tourists as it offers opportunities of sighting the tiger. The park authorities are now working to develop Magdi Zone by creating more opportunities for the tourists to spot tigers. To increase the opportunity of spotting the royal predators in Magdi zone, elephant shows are also organized.
Though, the park is majorly inhabited by white tigers but it also provides shelter to several other Indian wild species like Cheetals, Langurs, Bison and Sambars. The beautiful woods of Bandhavgarh attract numerous tourists from all over the world. The park remains at its best during spring season. The ideal time to explore wildlife in the park is from January to March.
Bandhavgarh has no direct air connectivity. The nearest airport to Bandhavgarh is at Jabalpur, one of the popular cities of India in Madhya Pradesh. Through airways one can reach Bandhavgarh quickly from New Delhi. On arriving at Jabalpur, one has to hire a taxi to Umaria.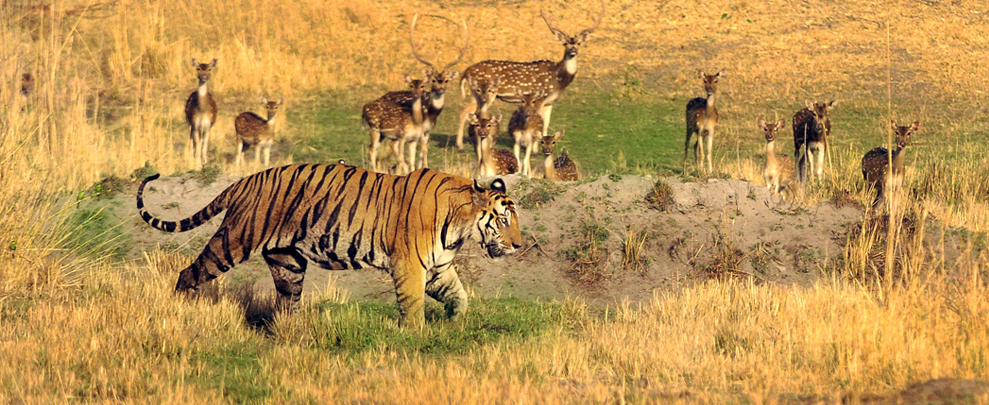 Kanha National Park
Kanha Tiger Reserve popularly known as Kanha National Park is one among the many tiger reserves of India and is considered as the largest National Park of Madhya Pradesh with an extension of over 1,940-sq-kms.
Kanha was divided into two sanctuaries in 1930s, Hallon (250 km²) and Banjar (300 km²). On 1 June 1955 Kanha National Park was established. The Kanha Tiger Reserve was made in the year 1973. It covers an area of 940 km² and lies in the two districts of Mandla and Balaghat in Madhya Pradesh.
Kanha Tiger Reserve is formed including the 1,067 km² of its surrounding buffer zone along with the neighboring Phen Sanctuary of 110 km². Therefore, it is considered as the largest National Park in Central India. Not only this, it has been listed in the top 10 Famous Tourist spots of India.
The park is a home to major population of Royal Bengal Tiger, sloth bear, leopards, Indian wild dog and Barasingha. The worldwide unforgettable classic Jungle Book was the result of the inspiration to Rudyard Kipling which he gathered from the lush green forests of sal and bamboo, green meadows and ravines or gorge of Kanha.
Kanha National Park preserving a variety of endangered species is recognized as one of the most picturesque wildlife reserves in Asia. The most remarkable features of this reserve besides open meadows are blackbuck, sambhar, chital and swamp deer.

Kaziranga National Park
Kaziranga National Park is a well-known national park of India situated in between two districts of Assam – Golaghat and Nagaon. The park is located on the banks of river Brahmaputra. It has been declared as a world heritage site by UNESCO. It covers an area of about 430 sq km. The park is a home to two-thirds of one-horned rhinoceroses of the world. The Forest Department of Assam published the latest census of March, 2015 which recorded the population of Rhinos in Kaziranga National Park to be 2401 out of which 1,651 adults, 294 sub-adults, 251 juveniles and 205 cubs are recorded. Along with the recognized wildlife NGOs, the department conducted an operation to preserve wildlife.
Kaziranga was declared as a Tiger reserve in the year 2006 as it had the highest density of tigers of all the protected areas in the world. The park also shelters huge breeding populations of elephants, swamp deer and wild water buffalo. It is also recognized as a prominent birdlife area by Birdlife International for conserving varied species of birdlife.
The vast area of Kaziranga comprises of tall elephant grass, dense tropical broadleaf forests and marshland. Four major rivers including the Brahmaputra River crosses the Kaziranga. The park also has several small water bodies. In the year 1905, it was established as a reserve forest and celebrated its centennial in 2005.

Tadoba National Park
Tadoba National Park or Tadoba Andhari tiger reserve is located in Maharashtra district. It is one among the fifty tiger reserves that are located in India. It is the largest and the oldest park in the state. The park gets its name from the tribal God worshipped in this region, Taru or Tadoba and, the river that runs through the region, Andhari. Taru was a chief in the tribal village who was killed by a tiger. He is represented as a God and a shrine has been dedicated to him on the banks of the river. Tribes in the buffer area celebrate a festival in the shrine during winter season.
Tourists are however not allowed to be a part of this festival.
Tadoba national park is very famous for those who want to spot the Bengal tiger. The gypsy safari of the park is also called as the tiger safari. The park is famous for birdwatching and spotting tigers.

Gir National Park
Established in 1975, GirForestNational Park is a forest and wildlife sanctuary in Gujarat. Located 43 km north-east of Somnath, it covers a total area of 1412 sq km and is the sole home of the Asiatic Lions.
Gir Forest has close to 500 species of plants and the forest is an important biological research area. The distinct animal species include 38 species of mammals, close to 300 species of birds, 37 species of reptiles and more than 2000 species of insects.
The prominent meat-eaters are Asiatic Lions, Indian Leopards, Sloth Bears, Indian Cobras, Jungle Cats, Golden Jackal, Indian Mongoose and Striped Hyenas. The herbivores consist of Nilgai, Sambar, Four-horned Antelope, Chinkara and Chital. An on going Lion breeding program is being run from one of the centers established at Sakkarbaug Zoo, Junagadh which has successfully bred close to 180 lions.

Periyar National Park
Periyar National Park and wildlife sanctuary is located in Thekkady, Kerala. It is very famous among tourists as elephant and tiger reserve. The park covers 357 square miles of land. Two main river, Pamba and Periyar runs through the park which helps the flora and fauna to thrive in this region.
This park is commonly called as the Periyar national park. It attracts thousands of tourists every year for safari, rafting and other activities. The park lies in the middle of cardamom hills. The north and the east borders of the park are covered by the mountains. The west part of the park is bordered by a plateau. From the plateau, the land steeps down to the valley of Pamba. The highest peak in this park is Kottamalai, which stands at 2,019m. This rich biodiverse land was formed from the rivers. The park also includes a reservoir, which provides year-around water for the wildlife.

Bandipur National Park
Bandipur National Park is located in Karnataka, South India. This park is famous for its wildlife riches. The park covers 874 square km, which covers many endangered species of animals and flora. Bandipur National Park along with Mudumalai National Park, Wayanad National Park and Nagarhole National Park forms the Nilgiri biosphere reserve. This reserve is the largest protected area in South India and the region with highest number of wild elephants in South Asia.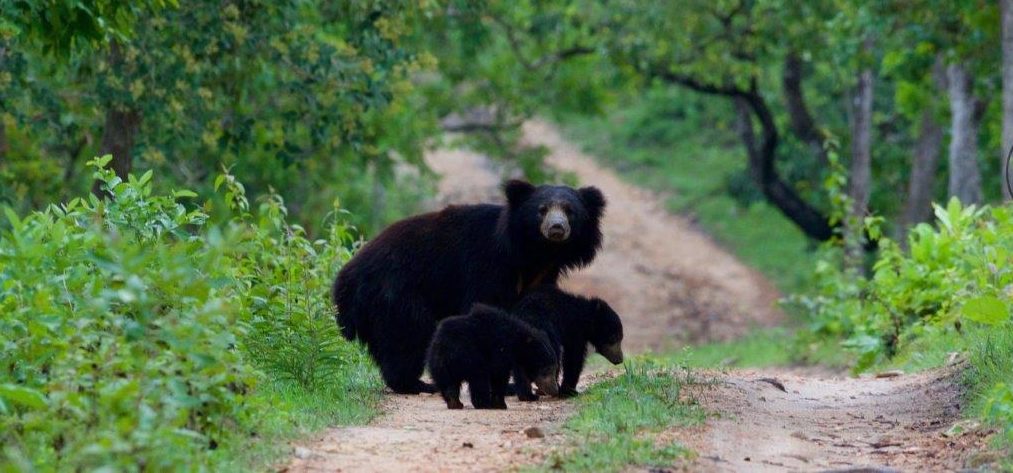 Nagarhole National Park
Nagarhole National Park or Rajiv Gandhi national park is located in Kodagu district of Karnataka. It is a part of Nilgiri biosphere reserve and is now under the consideration for recognition as a heritage site. The park is filled with waterfalls, hills, valleys, streams and forests. The park is famous for its rich population of animals and birds.
The park is located to the north west of Karnataka's Nagarhole national park. The two parks are separated by the Kabini reservoir. The park gets its name from the streams. Naga means snake and hole means streams. Many wriggling streams are found in this park and, thus the name. The park has 47 streams, 41 artificial tanks, four lakes with water throughout the year, 4 perennial streams, a reservoir and a dam. There are several swamps in this region. This diverse landscape promotes the population of various species of animals and birds in this region
Nagarhole national park has the highest density of herbivores in Asia. This park is best for spotting elephants, guar, tiger and bear.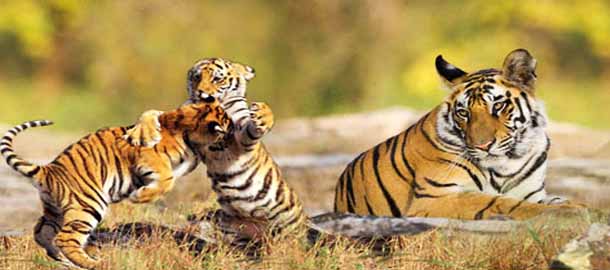 Sunderban National Park
Located in West Bengal, the Sundarban National Park is a Tiger and Biosphere Reserve on the Ganges Delta. Its signature mangrove forest, is a particularly popular attraction here, making it one of the most visited national parks and wildlife sanctuaries in India.
One can spot Bengal tiger, saltwater crocodile, wild boars, foxes, leopard cats, huge turtles, Ganges river dolphins and several other varieties of mammals and reptiles, along with a huge variety of local and migratory birds.
The only way to travel around and across the park is by boat; there are no jeep safari or walking tours available. Another unique aspect of this national park is that the tigers have developed the ability to swim in the saline waters here. With ease, one can spot tigers sunbathing on the river banks during November to February.