Top Heritage & Luxury Hotels in India
Given to India's rich historical past, the country is full of forts and palaces. There are many palaces that have been converted to luxurious hotels, retaining the old charm and yet providing all modern amenities. Here's a list of the best heritage hotels in India that define luxury in its true sense! If you love indulging, you certainly must stop ticking off these luxury hotels!
Add a spice to your vacation programme in India with the luxury hotels that invite you to experience a superb amalgamation of Indian cordiality and contemporary amenities. If you wish to experience the royal Indian lifestyles once lived by the kings and queens of the yesteryear, then travel to India and lose yourself in the hands of opulence. Having rendered with high living spaces, international dishes, royal spa and wonderful conference facilities, these hotels have designed its services keeping in mind that the visitors may have to work 24 Hour following international datelines.
So, here is a list of the most Luxurious & Heritage hotels in the country.
Taj Lake Palace, Udaipur
Matchless hospitality, award-wining restaurants, impeccable services are offered at Taj Lake Palace in Udaipur.  It comprises 66 well designed rooms and 17 suites that come with modern and essential amenities like LCD TV, electronic safe, mini bar, tea/coffee maker and attached washroom. The hotel features conference room for formal and informal gatherings. Visitors can also relish a boat ride on the scenic lake that surrounds the palace. A variety of Indian and international dishes are tendered at the restaurants which has both indoor and outdoor seating facilities.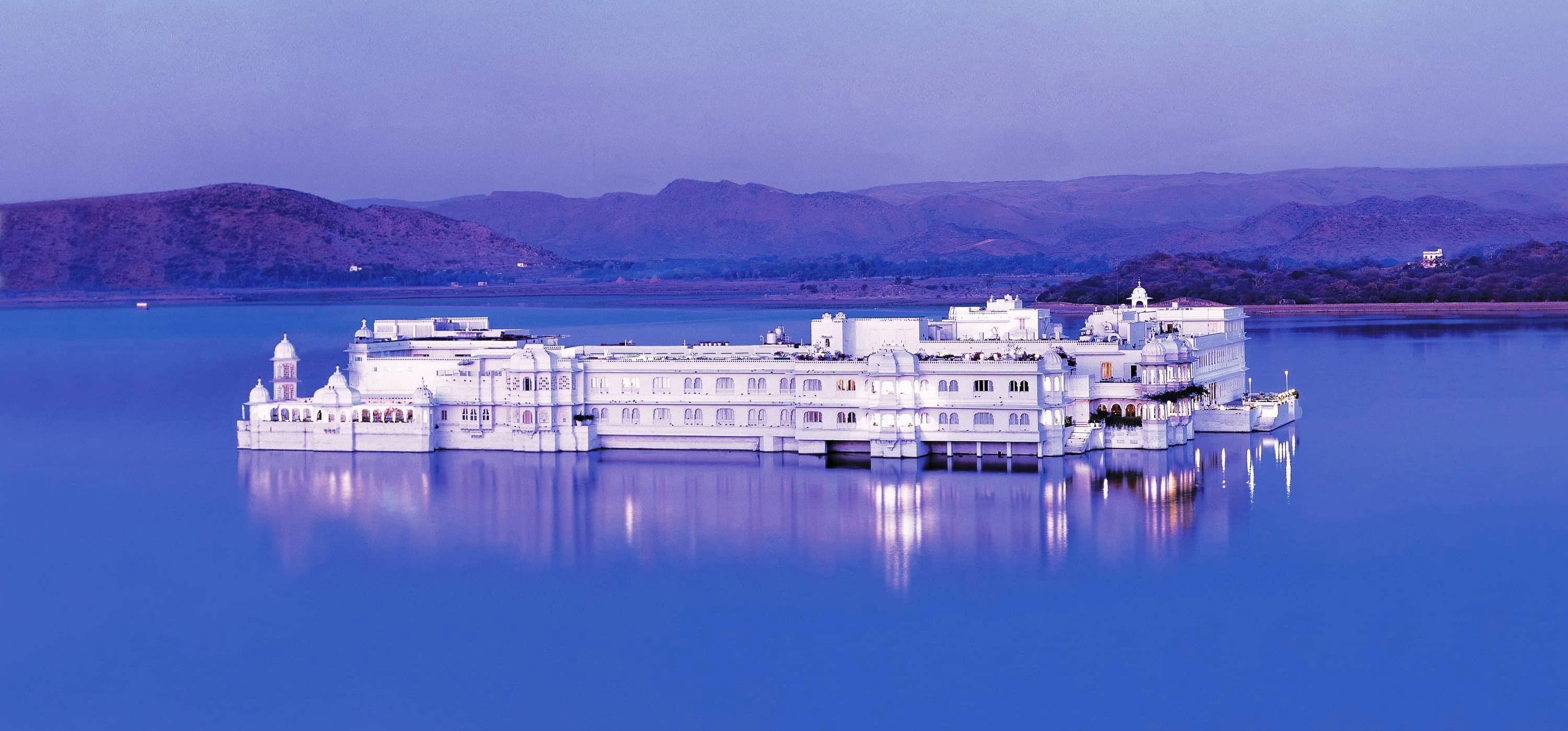 The Leela Palace, Udaipur
Indulge yourself in the luxury and comfort tendered at The Leela Palace, Udaipur. There are 80 rooms that overlook the Lake Pichola or the city Palace. Adorned with fine Indian carpets, it offers perfect lodging experience with incredible opportunities for travelers. While staying at the Leela Palace, visitors can explore the must see attractions of the city and dig into famous Rajasthani cuisines. Whether coming by boats or cars, it tenders its visitors the serene setting of scouting the rich cultural heritage in style and comfort.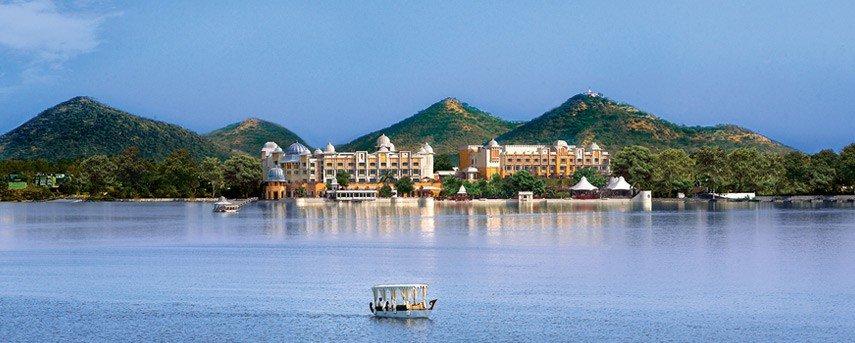 Umaid Bhawan Palace, Jodhpur
Constructed for H.H Maharaja Umaid Singh Ji during 1928-1943 in the desert capital of Jodhpur, Umaid Bhawan invites the visitors to admire the verdant beauty and antique collections of ancient era put on display. It is just 1 mile from the railway station and within 4 miles from the main attractions of the city like Jaswant Thada, Mehrangarh Fort and many more. The hotel pampers the guests with traditional spa and beauty treatments. A yoga center, fitness club and tennis courts are rendered. Besides this, visitors can relish Indian, Rajasthani and continental dishes at the restaurant. Indian and international drinks can also be relished at the Trophy Bar.

The Oberoi Udaivilas, Udaipur
Perched on the banks of Lake Pichola in the romantic city of Udaipur, The Oberoi Udaivilas is a luxury property that exudes the lifestyles of kings and queens of bygone era. It is just 2 miles from the city center and 19 miles from the airport. There are 87 well furnished rooms that are endowed with flat screen satellite TVs, electronic safe, tea/coffee maker, mini bar and attached washroom. One can also relish a boat ride along with a sip of wine or any of his/her favorite drink. The restaurants at The Oberoi Udaivilas satisfy the taste buds of the guests by serving a variety of Indian, Chinese, Rajasthani and continental dishes.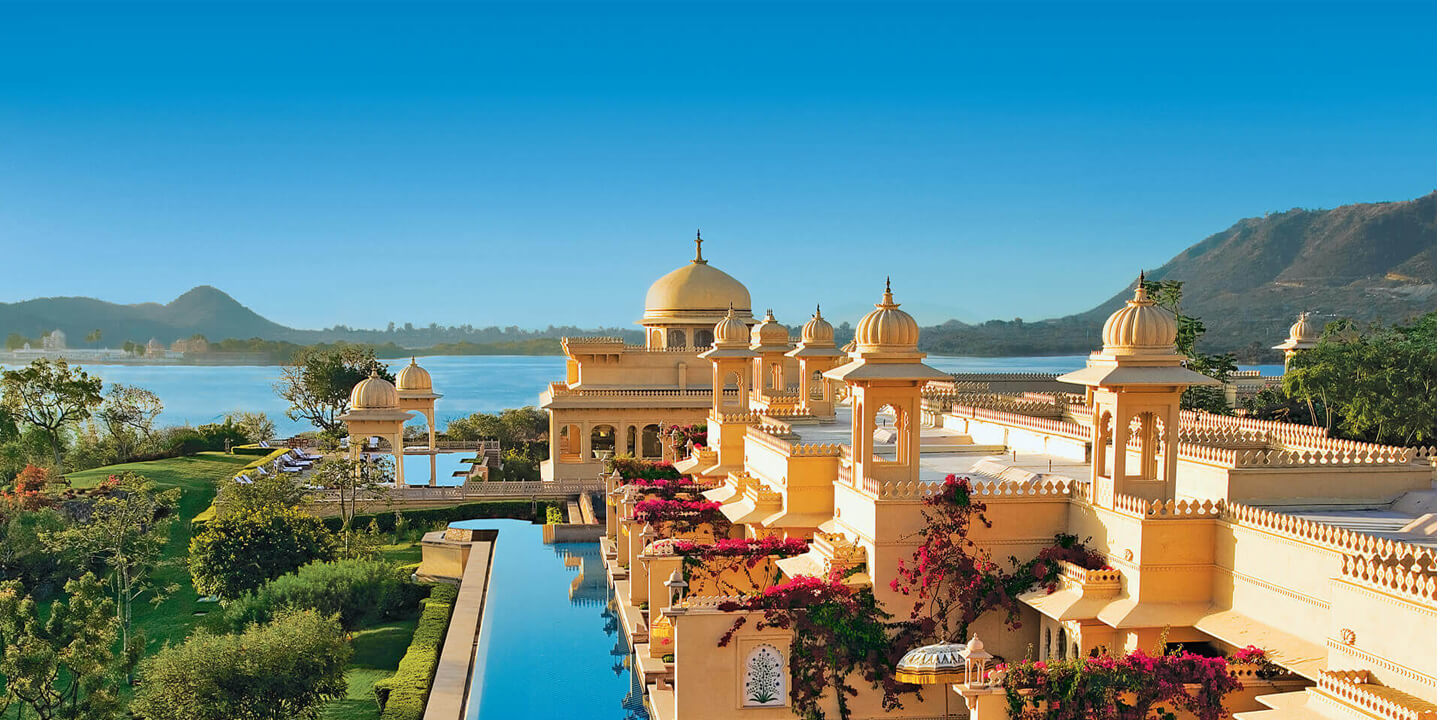 The Oberoi Vanyavilas, Ranthambore
One of the best luxury hotels based on  trip advisor rating, The Oberoi Vanyavilas is nestled at the edge of Ranthambore Tiger Reserve just 5 km from Sawai Madhopur railway station. The setting of the resort is charming with luxury tents which have wooden flooring, private walled garden and luxurious washroom. One can also take delight in invigorating message or yoga classes at picturesque settings. The restaurant offers its guests the taste of both the worlds. Be it Indian, Chinese, continental or European. Experience a vacation of a lifetime scouting wildlife and spending some good time with loved ones at luxury tents of this resort.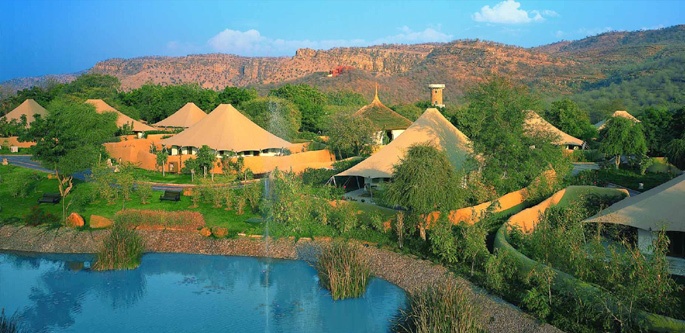 Taj Rambagh Palace, Jaipur
An architectural masterpiece situated in the vicinity of Rambagh Polo Ground, Taj Rambagh Palace is one of the recommended hotels in Jaipur. It comprises two meeting rooms and five halls for social and business meetings. Having 79 rooms and suites that come with a plethora of facilities, it renders visitors an opportunity to experience royal living. The palace also offers scores of recreational facilities like outdoor swimming pool, spa, mini golf course and fitness center to make the guests stay delightful. The restaurant serves a variety of Indian, Chinese and continental cuisines to gratify the taste buds of the visitors.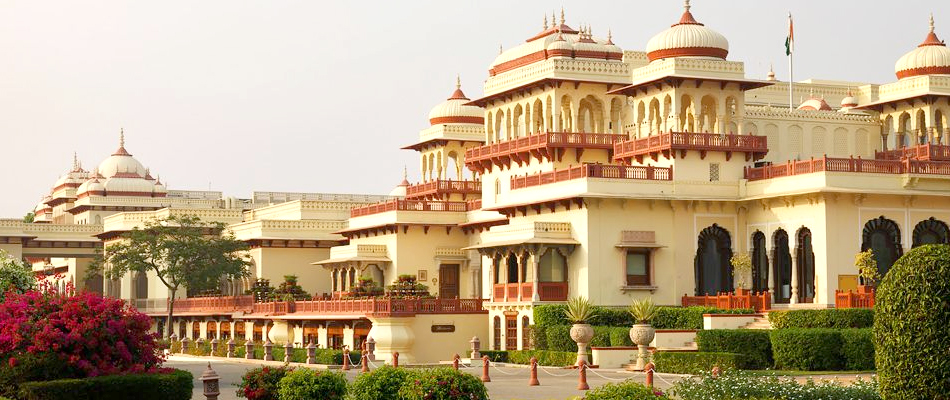 The Oberoi Rajvilas, Jaipur
Just a 15 min drive from the city center brings you to the luxury property – The Oberoi Rajvilas, offering cascading fountains, impeccable service, flowering trees and friendly hospitality.  The hotel boasts of 54 rooms which are divided into luxury tents, villas and premier rooms. Constructed in Rajasthani fort style, it offers spa that includes Ayurvedic and western treatments for leisure and relaxation. All the rooms at The Oberoi Rajvilas feature wired internet access, electronic safe, mini-bar, tea/coffee maker and round the clock room service. Experience the best of India and other countries at the restaurants of hotel.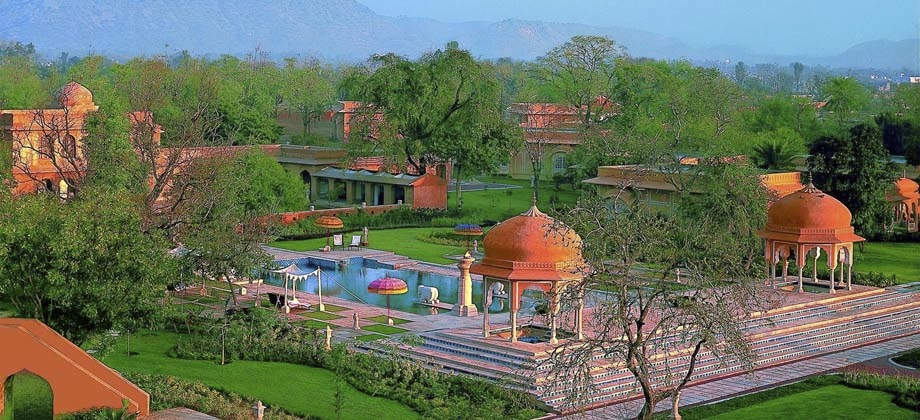 Samode Palace, Jaipur
Samode Palace is a heritage monument built by the noble feudatory with the hereditary title of 'Maha Rawal' or 'Maha Saheb' of the Amber and Jaipur principality in Rajasthan, India. Samode Palace is a great example of regal Indo-Saracenic architecture. Each room is luxuriously furnished and is a blend of modern luxury with traditional opulence.
Located in the pink city Jaipur, Hotel Samode Palace is legendary in its own right. A lethal combination of Mughal and Indian architectural styles it is a beauty to marvel. The rooms have great furnishing and styling and the dining venues boast of Indian and World-Class cuisine and also a luxurious spa and swimming pool.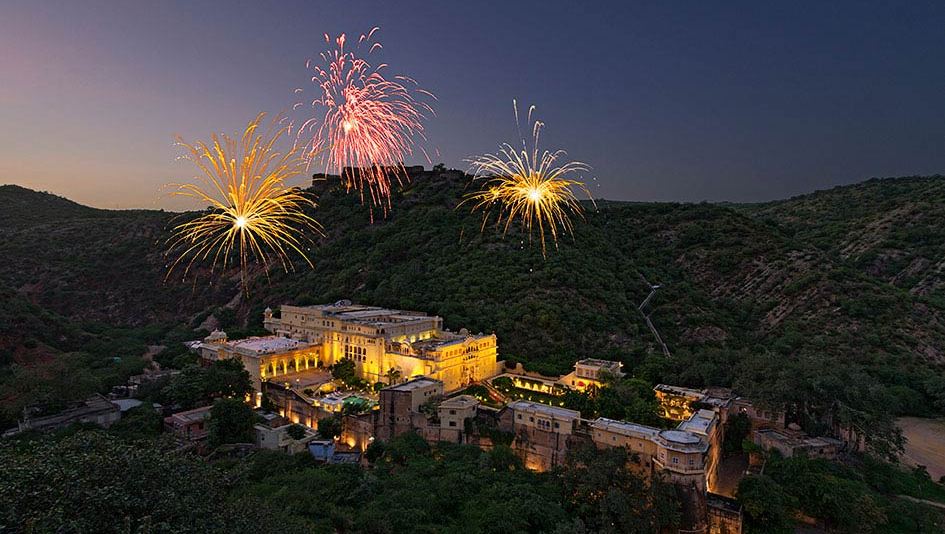 Suryagarh, Jaisalmer
In the far northwest corner of India, Suryagarh sits on the edge of the Thar desert — providing an off-the-beaten path experience for adventurous travelers.
The haveli-style accommodations look like a grand sandstone fortress from afar. Inside, you'll find winding corridors and open-air courtyards, gardens, latticed stone, and nostalgic old-world touches.
Choose from a mix of more contemporary Fort Rooms and heritage-style haveli rooms and suites — kitted out with modern amenities and vast desert views.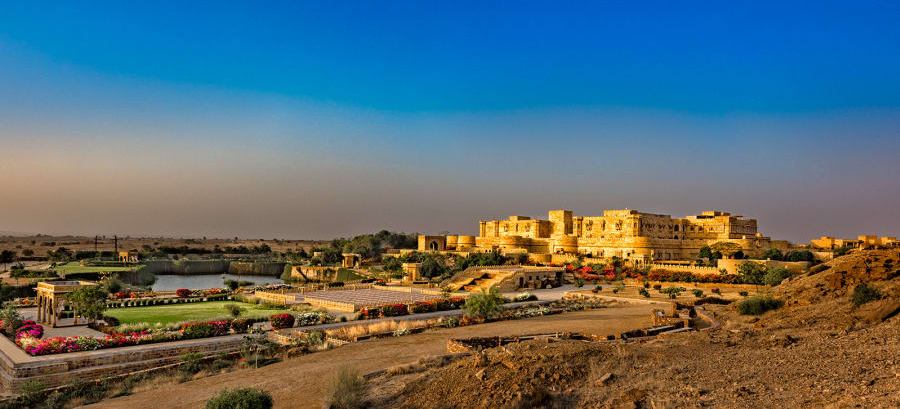 Tijara Fort-Palace, Alwar
About a 2.5-hour drive southwest of New Delhi, Tijara Fort-Palace is hard to miss. The grand building sits atop a hill in the middle of a valley.
Originally built by Prince Maharaja Balwant Singh, the fort-palace was left incomplete and abandoned after the ruler's unexpected death in the mid-19th century.
In 2009, Neemrana Hotels leased the 19th-century beauty and set to work restoring it.
The result is magnificent — picture terraced gardens, turrets, courtyards, open-air corridors and imposing Rajput-Afghan-style architecture with carved arched doorways, pillars and domed ceilings.
Each of the 62 rooms and suites has its own heritage character and charm, many of which overlook the fort's gardens and lawns.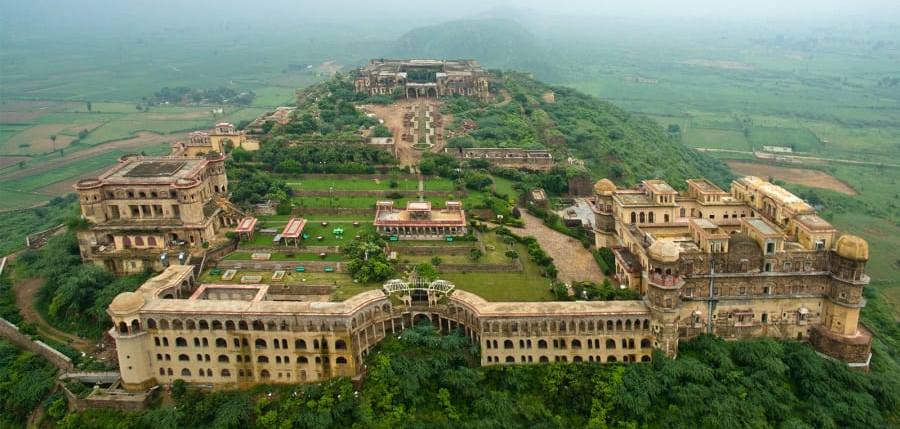 Amanbagh Resort, Alwar Rajasthan
The Amanbagh experience starts the moment you arrive through verdant beauty and beautiful doors near Alwar in Rajasthan. It features cultural Rajasthani touches, spa, a big swimming pool and library. It renders a perfect ambience and a variety of culinary options to choose from. For perfect dining experience, guests can reach the poolside restaurant offering sparkling drinks and snacks. Lodging options include lavish, elegantly designed suites and rooms with bountiful amenities.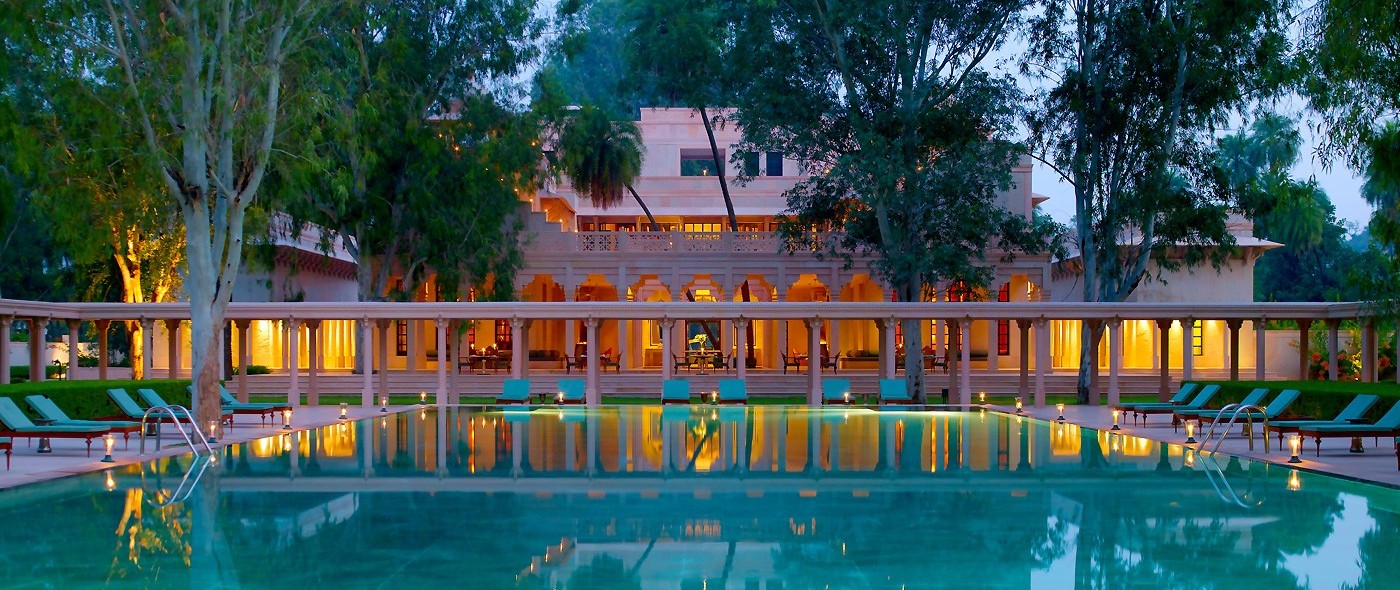 The Oberoi Amarvilas, Agra
One of the foremost resorts in the globe, The Oberoi Amarvillas tenders comfortable, elegant rooms amidst verdant beauty, and just 600m from the Taj Mahal in the heart of Agra. It tenders a range of activities to pamper the guests. Moreover, its royal interior décor takes you back to the time of kings and queens. Guests can also indulge in an array of spa treatments or take up yoga classes to find their inner self. It tenders plethora of recreational activities that guests can relish during the stay.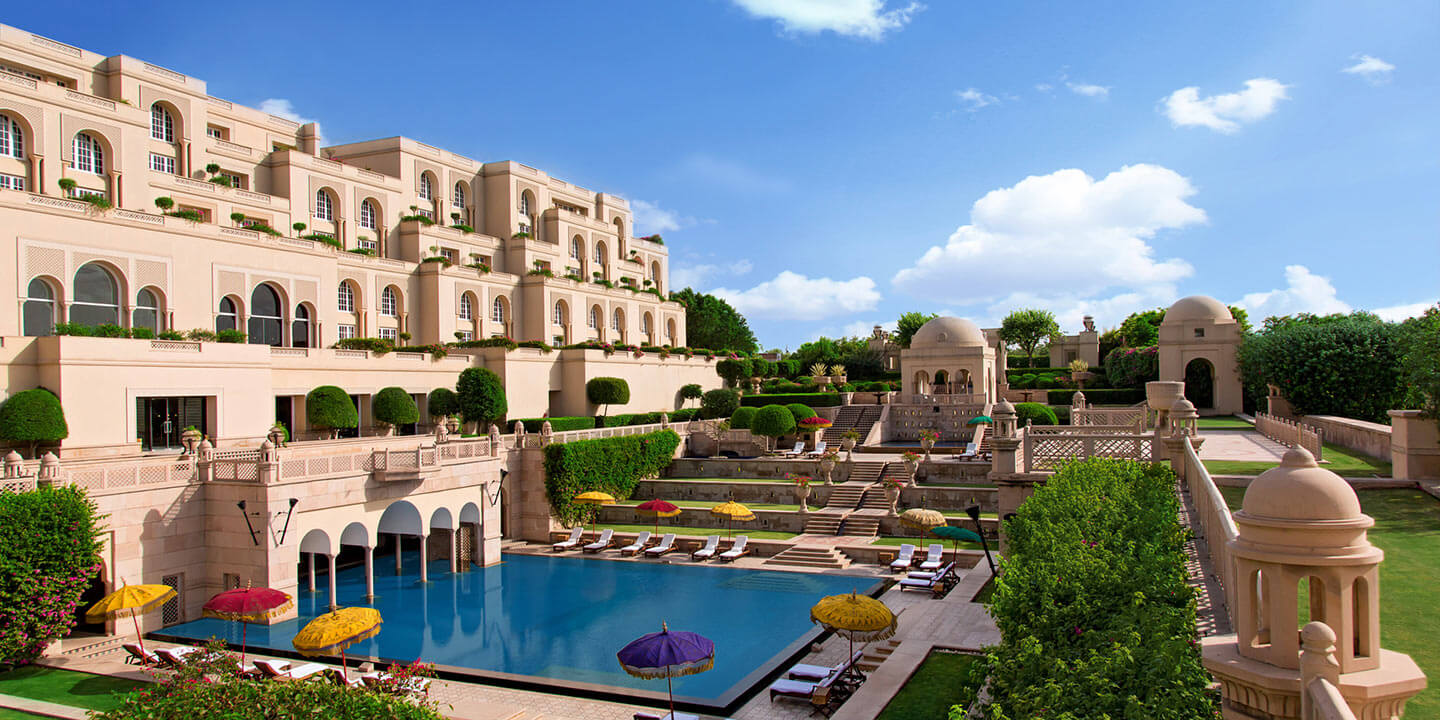 The Leela Palace, New Delhi
Just 1 mile from the famous Sarojini Nagar Market and 3 miles from India Gate, The Leela Palace is perched in the posh area of Chanakyapuri in New Delhi. It is famed for proffering luxurious lodging facilities and warm hospitality. Placed within the vicinity of main shopping and business centers, it is indeed the best place to spend some cozy time with loved ones. Moreover, the refreshing spa therapies offered here are worth experiencing. Relish authentic Italian food at Le cirque, Japanese cuisines at Megu and Indian dishes at Jamavar. One can also take pleasure in refreshing beverages and a variety of international liquors at the in-house bar.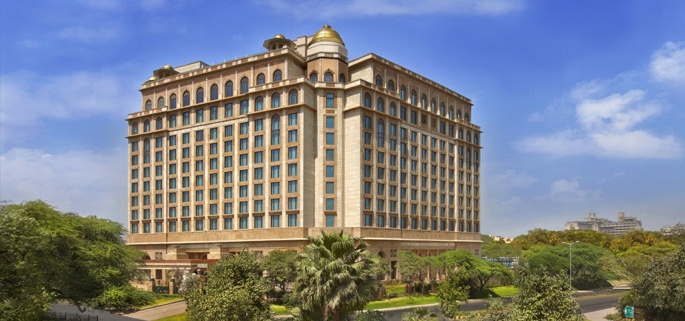 The Oberoi, New Delhi
The Oberoi, New Delhi is an iconic luxury 5 star hotel in New Delhi. It is located in the centre of India's cosmopolitan capital city. It is 30 minutes from the Domestic Airport and 45 minutes from the International Airport.
The interiors are a contemporary interpretation of Sir Edwin Lutyens' New Delhi architecture. The hotel is also equipped with state of the art clean air technology which promises air quality on par with global standards.
The hotel has 220 rooms and suites inspired by Lutyens' New Delhi design, with authentic furnishings and handpicked artwork. All feature large picture windows which frame unmatched views of Delhi Golf Course on one side and the UNESCO World Heritage site of Humayun's Tomb on the other. All accommodation radiates luxury. From the rich polished teakwood floors to the spacious walk-in closets, magnificent Italian marble bathrooms and oak wood desks. Each room also has comfortable seating and complimentary high speed Internet. In case you hunger for a gourmet midnight snack, we offer 24 hour in room dining and have 24 hour butlers waiting to serve you. Premier Plus Rooms and all suites have complimentary access to the exclusive Resident's Lounge.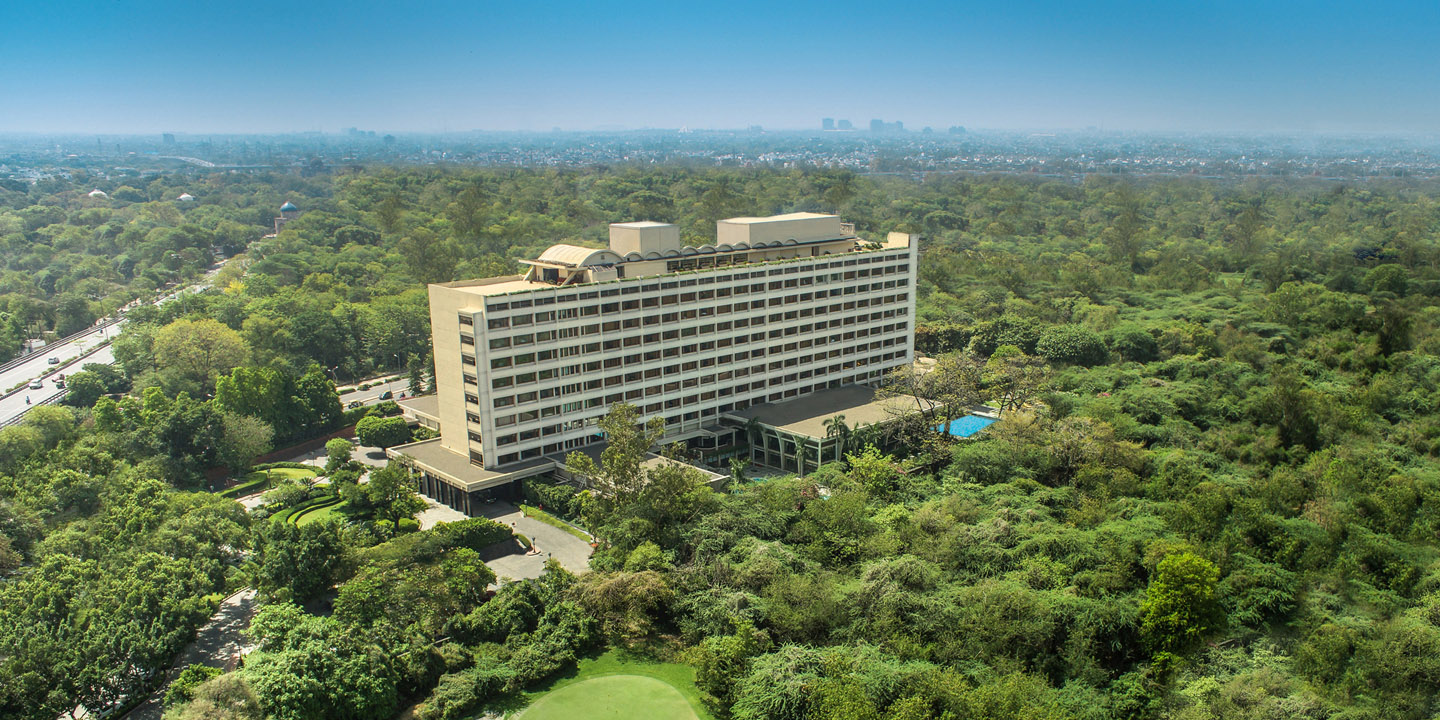 The Oberoi, Gurgaon
A luxury property rendering much more than one's imaginations, The Oberoi Gurgaon is a perfect mixture of luxury, comfort and entertainment. The Oberoi's 200 rooms and suites feature scenic windows through which can you take a view of the lovely gardens and swimming pools.  24 hour room service is also available to make the visitors' stay comfortable. The hotel has no less than 5 kitchens, each offering a refreshing taste like never before. There is a Piano bar amidst the lavish surroundings, serving a variety of food and drinks.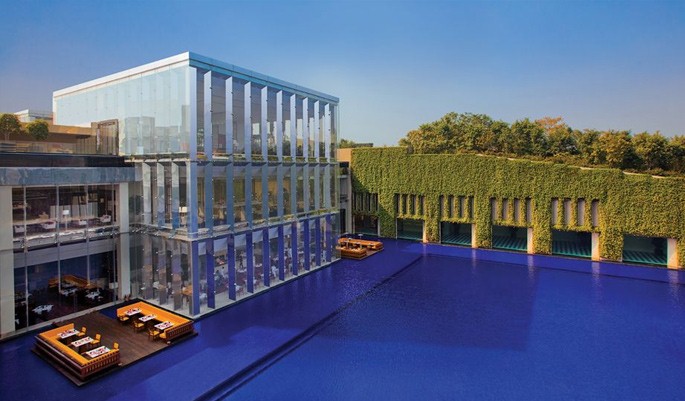 The Oberoi, Mumbai
Tendering opulence, convenience and a variety of scrumptious cuisines, The Oberoi is situated at Nariman Point in proximity to the business and shopping centers of South Mumbai. It offers a variety of spa therapies to relax your mind, body and soul. All the elegantly appointed rooms overlook the charming views and provide the guests with memorable experience to treasure forever. The guests can also relish Indian, Chinese, Italian and Japanese dishes at the restaurants. The bar overlooking the crystal clear sea offers an array of Indian as well as international liquors.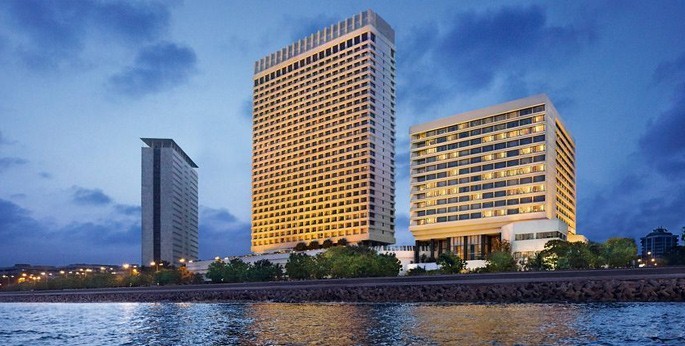 The Taj Mahal Palace, Mumbai
An idyllic amalgamation of opulence, comfort and leisure, The Taj Mahal Palace is a 21 years old building in the Colaba region of Mumbai. It has 560 rooms and 44 suites which are designed keeping in mind the taste of today's travelers. Situated just 20 miles from the international airport, the hotel has been visited by many famous celebrities from India as well as foreign countries like Bill Clinton, Hillary Clinton, Angelina Jolie and many more. The palace offers a wide array of Indian, Chinese, Italian and continental cuisines to gratify the hunger of the visitors.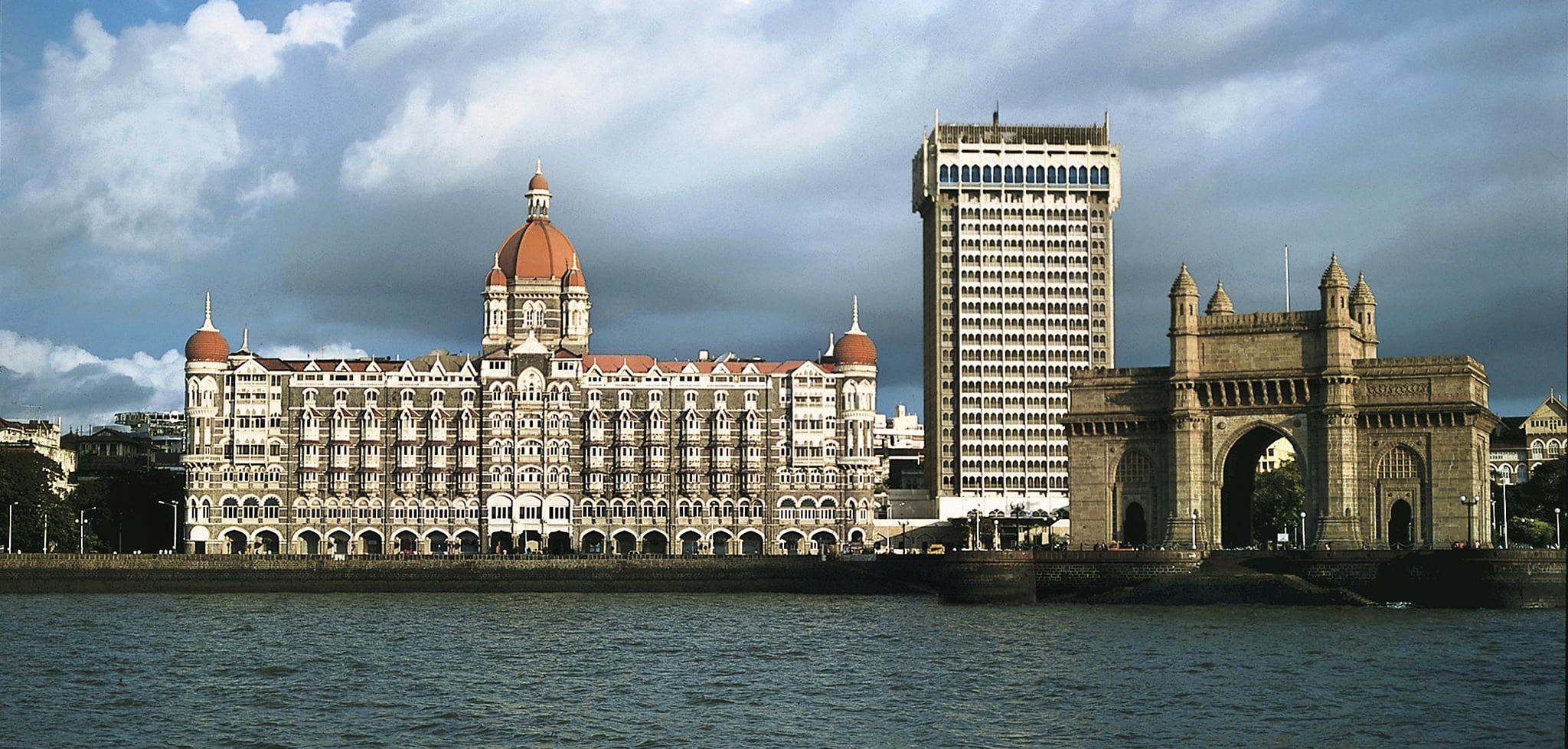 Wildflower Hall, Shimla
Positioned at a height of 8250ft and in proximity of Shimla mall, Wildflower is a landmark of superior comfort, with spectacular views of Himalayas. It offers tranquil surroundings that make it an idyllic place to stay. There are many memorable experiences to be had, from iconic setting, exotic cuisines to state-of-the-art facilities. One can also take a stroll on the paths leading through the cedar woods and relish picnic baskets that accompany your adventure. It also organizes adventure thrills like mountain biking, ice skating, trekking and white water rafting to provide the visitors with remarkable memories.

The Oberoi Cecil, Shimla
Ranked among the top 25 luxury hotels in India, The Oberoi Cecil is nestled in proximity to the main destinations of Shimla like Summer Hill, Jakhu Shrine, Mall road and Ice Skating. It tenders lavish accommodation options which are divided into deluxe rooms, premier rooms and luxury suites. Each of them is endowed with modern amenities such as direct dial telephone, internet access, satellite television and electronic safe. There is a conference hall that can accommodate up to 70 people at a time. For refreshing experience, the hotel proffers health center, spa and swimming pool.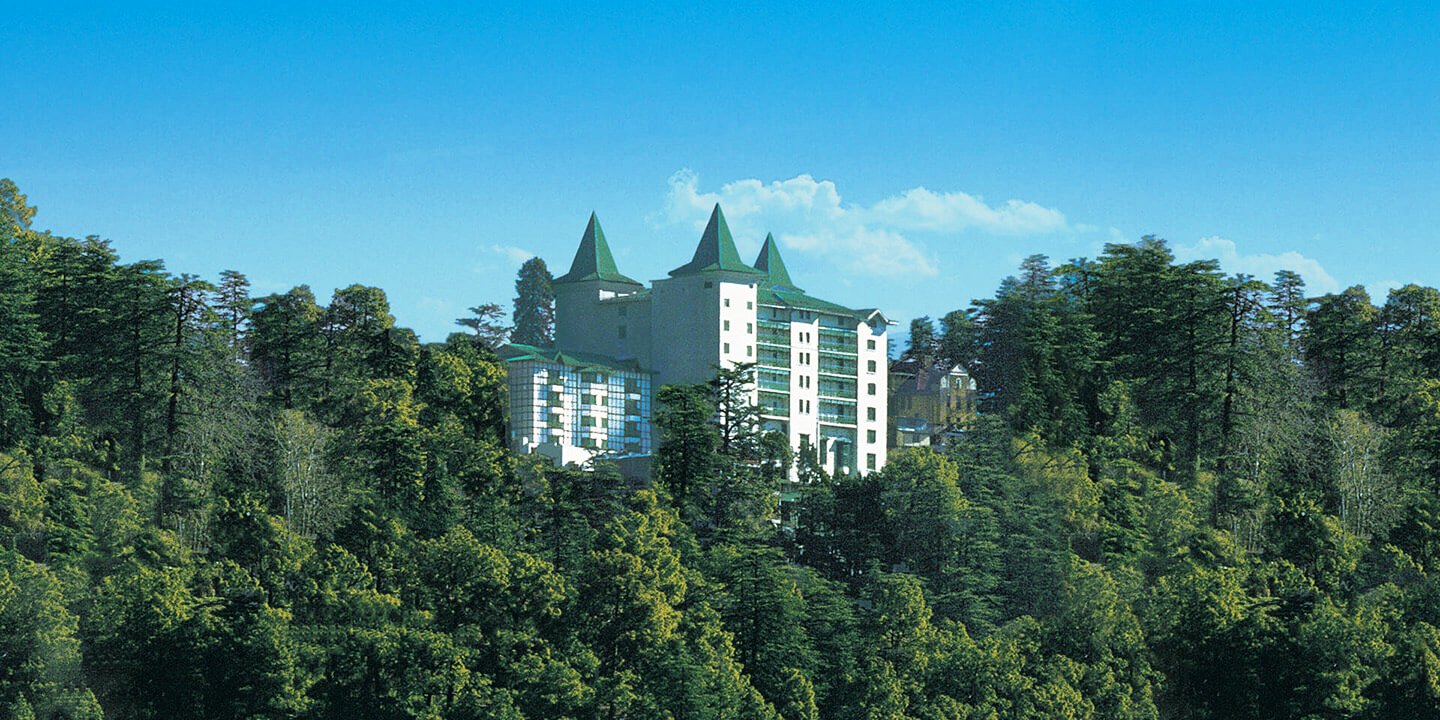 Ananda in the Himalayas, Rishikesh
Not for nothing is Rishikesh known as a hotspot for health tourism. Every year, thousands of visitors flock its grounds to get natural cures for their ailments. Amongst the havens that throng the valley is Ananda in the Himalayas, a giant establishment stretching across 24,000 square feet. A spa and resort, Ananda in the Himalayas overlooks the majestic Ganga River and offers a wide range of European, Asian, and Ayurvedic spa therapies for its guests. From anti-ageing and weight loss to destressing and detoxification, there are a number of programs for guests to avail here. If you're looking for rejuvenation by other means, the resort also offers classes and workshops in Reiki, healing crystals, Satyanand Yoga, Hopi ear candling, Chakradhara and meditation.