Day 01     – Dubai   
Meet our representative at the airport and proceed to the hotel in Dubai for check-in.
Day 02     – Dubai            
Breakfast at Hotel. Buffet breakfast at Hotel.
10:00 Hrs. – Meet our representative at the hotel lobby proceed to Dubai Mall and begin your journey to 'At the Top' at Burj Khalifa. Ride the 213-foot (65-meter) moving sidewalk and as you travel, watch a multimedia presentation that tells the story of Dubai and the building of the Burj Khalifa. Glimpse views of the tower at the end of the sidewalk before stepping inside the elevator, soaring 33 feet (10 meters) every second to the 124th-floor observation point.
15:00 Hrs. – Proceed for a tour of Dubai city with our expert guide.
Traveling between landmarks by air-conditioned vehicle, uncover Dubai's vibrant culture and history as you explore markets, quaint streets and other historical highlights. Step back in time at Dubai Museum, sail across Dubai Creek in one of the city's classic 'abra' water taxis, and stroll and shop your way around Deira's bustling Spice Souk and Gold Souk independently. Finish with a glimpse of new Dubai, with photo stops at Jumeirah Mosque and the futuristic, sail-shaped Burj Al Arab.
19:30 Hrs. – In the evening proceed for the Dhow Cruise on Dubai Creek. Enjoy the glittering lights of Deira and a delicious buffet feast on this 2-hour evening Dubai dinner cruise. Board a beautifully illuminated 'dhow' — a traditional Arabian sail boat — and drift along winding Dubai Creek as you gaze at twinkling landmarks such as the Al Maktoum Bridge, the National Bank of Dubai and downtown Dubai's skyscrapers in the distance. Then, with the creek waters gently lapping at your Dubai dhow cruise boat, savor a scrumptious buffet of tasty Emirati and international dishes, with complimentary so as and additional drinks (own expense).
Day 03    – Dubai     
Breakfast at Hotel.
OPTION 1
08:30 Hrs. – Pickup from the hotel Lobby and proceed to Abu Dhabi City. Our first destination is the divine Sheikh Zayed Grand Mosque. This mosque recognized as the one of the biggest mosques in the world. Gold, marble, stone and crystals were used to design this wonder. Here, about 40,000 devotees can be accommodated at the same time! Next, visit The Sheikh Zayed Centre, the place is dedicated for Sheikh Zayed (father of the nation – UAE).
After a while we will pass along the City Corniche, a pleasant water-front. This will be followed by brief photo stops at Abu Dhabi's landmark structures namely, the Emirates palace – synonym for luxury, and the ravishing Etihad Towers – Fast and Furious 7 movie fame! Our tour then proceeds to the Heritage Village. This is where the present meets the past! There we can see the old world structures and tents (made-up of stones). The Arabian skills and craftsmanship can be seen in the Museum that is located here. Afterwards, you may have the lunch at Heritage Village's traditional restaurant (at own cost, unless otherwise mentioned). Our next attraction is the Dates market. The market is enriched with clean and delicious dates with more than 120 types. Go for some purchase if we have the time. Yas Island is the last photo stop spot of our trip – a manmade island where the famous Ferari World and Yas Water World are located. Photos taken from Yas Island will make a memorable collection of your trip.
OPTION 2
Our professional licensed drivers pick you from your location and take you in golden desert for thrilling ride. Explore the Arabian Desert on an off-roading tour from Dubai for an experience that includes zooming across sand dunes and gliding down them on a sand board. A driver will take you 'dune bashing' across the rolling hills of sand in a 4×4 vehicle so you can admire views and capture photos.
Overnight at your hotel.
Day 04       – Muscat   
Arrive Muscat by 1800 hrs and transfer to Muscat International Airport to board the flight to home destination.
Day 05    –  MUSCAT 
Breakfast at Hotel.
08:30 Hrs         Depart from your hotel and proceed to visit Grand Mosque. Arrive Grand Mosque, one of the largest Mosque in the world and at one time, it can accommodate 20,000 worshippers. Grand Mosque has beautiful art work, chandeliers and one piece carpet covering entire prayer hall.
To visit Mosque, one has to be dressed in conservative manner. One should not wear revealing or transparent clothes and should be covered from head to toe. Grand Mosque is open for the tourists from Saturday to Thursday from 08:00 hrs to 11:00 hrs

After the tour of Mosque proceed to The Royal Opera House which is supposed to be one of the finest opera house recently built.  Visit to Royal opera house is subject to their show and rehearsal timings.  Normally the visit is available upto 1100 hrs every day and it will take approximately 30 minutes
Proceed to Old Muscat area.  Visit the Bait Zubair Museum, It was a house of old merchant who later converted it to a Museum. It has wide collection of traditional dresses, arms, old maps, etc. After the tour of Museum, leave for Muttrah Souq
Driver towards the souq enroute photo stop at the official Palace of His Majesty, Sultan Qaboos. This Palace is flanked by two portugese fort Jalali and Mirani.
This will be a photo stop (No Video Cameras) as visit to Palace and Fort is not possible due to security reasons
Back to your hotel by 1300 hrs.
 Day 06 – MUSCAT – NIZWA – JABRIN – NIZWA 
Breakfast at Hotel.
08:30 Hrs    Proceed on a tour of the Oasis city of Nizwa, which was once the capital of Julanda Dynasty in the 6th & 7th Century AD Today it remains as the most popular tourist attractions with its historical buildings & imposing fort.  Visit the Nizwa fort with its enormous round tower built in the 17th century built by Imam Sultan Bin Saif Al Ya'aruba to defend the route to the interior. The fort dominates the entire area, with the town having grown around the edifice. Access to the top is only by means of a narrow, twisting staircase barred by heavy wooden doors, studded with metal. From the top of the tower one can get a bird's eye view of the Nizwa city.  From here you will proceed to the Nizwa souq which is renowned for its intricately hand-carved "Khanjar" and ornately designed silver Jewelry.
Proceed to the Jabrin Fort, Arrive at Jabrin to visit the castle, the finest of Oman's castle built in the late 17th Century, which became a seat of Omani learning.  This castle has extremely well planned layouts with room for the wali, the ladies room, the kitchen, the majlis etc. Most of the ceilings are decorated with beautiful paintings with Islamic motifs. The view from the top of the castle is really mesmerising.
Check in at hotel and time to relax

Day 07   – NIZWA – JABAL SHAMS – NIZWA           
Breakfast at Hotel.
09:00 Hrs    Proceed for a soft adventure trip to Jabal shams, proceed to Al Hamra and Misfah.  Drive through the mud houses and stop at Misfa to see the old settlement and Falaj systems.  (water canal systems)
After visiting Misfah shift from your Hiace/Coaster bus to 4wd vehicle (maximum 4 persons per vehicle ).  Drive to Jabal shams, known as the mountain of sun, is one of the most impressive experience of nature.  Visit Misfah, one of the few places built into the side of a mountain, and Wadi gul on the way to Jabal shams
Optional – lunch possible at Jabal shams camp
After spending some time for photography at the Grand Canyon, drive back to Al Hamra.  Shift from your 4WD vehicle to the bus and proceed towards your hotel
Overnight at the hotel
Day 08    – NIZWA (ANIMAL MARKET – WAHIBA SANDS)
Breakfast at the hotel
09:00 Hrs          Proceed to Nizwa animal market.  Here on a Friday a unique goat and cattle auction is held. The atmosphere here is electric.  Continue your drive to Ibra. Stop for Lunch at a local restaurant.  After having lunch proceed to Wahiba Sands which is the home of Bedouins.
Arrive at Al Mintrib and shift from your vehicle to 4wd vehicles.
(Max 4 persons per 4wd   vehicle)
The 'Wahiba Sands' often described as a perfect example of Sand Sea consists of large ranges of dunes running from North to South, some attaining a height of about 100 meters and orange in colour.  Our experienced driver will take you on a dune bashing tour through the undulating sand dunes to experience the thrills of dune driving. Arrive at the prearranged camp site for overnight. Rest of the day at leisure.
Dinner and overnight at the camp.

Day 09   – WAHIBA SANDS – WADI BANI KHALID –SUR – WAADI SHAAB – MUSCAT BEACH HOTEL  
Breakfast at Hotel.
09:00 Hrs    Check out and drive towards Wadi Bani Khalid, one of the beautiful Wadi's in the country. You will drive through small villages and towns before arriving at Wadi Bani Khalid. This drive through the mountain offers a panoramic view of the beautiful landscape below. You will pass many pretty villages embedded in the mountains. Here the road winds down to the wadi along side a large, shallow pool fringed with vegetation & ends at a village. We park our vehicles at this point & continue on a short trek to the deep blue pools of the wadi. If you wish you may enjoy a swim in this glorious grace of nature. It is recommended to wear comfortable clothes & walking shoes for this trip.
After spending some time here, proceed Sur town.  Drive through Sur to Wadi Shab. Shab in Arabic literally means 'Ravine between Cliffs "shallow green pools and abundant shade give wadi Shab a perfect setting for a picnic. Continue on the bumpy track, sometimes touching the sea following a creek or overlooking superb white beaches hundreds of metres long.
Arrive at the sink hole. On arriving at Sink hole, a spectacular limestone crater with blue green water at the bottom and this stop will also be a toilet stop. After spending some time, continue your drive to Muscat.
Arrive Muscat by 1800 hrs and check in At Beach Hotel in Muscat.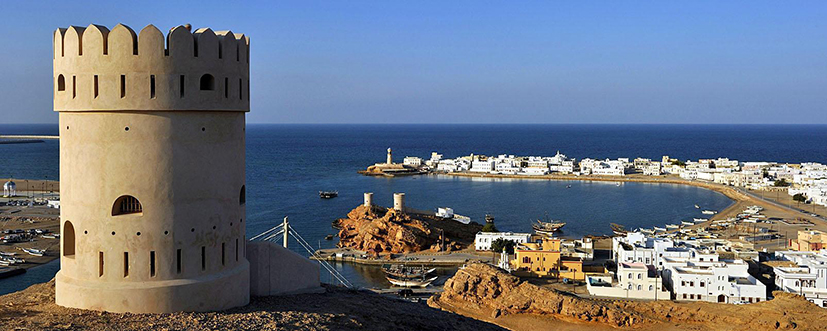 Day 10            
Breakfast at Hotel.
Overnight at beach hotel in Muscat