HINDU PILGRIMAGE TOURS WITH TAJ MAHAL (Delhi – Mathura - Agra – Delhi– Haridwar - Rishikesh – Haridwar– Kurukshetra - Delhi)
Day 01: Arrive Delhi
Welcome upon arrival at Delhi International airport meeting and transfer to Hotel. Overnight stay at hotel in Delhi.
Day 02: Delhi – Mathura – Agra 147 Kms 03 hrs drive approx + 57 Kms 01 hrs drive approx
Breakfast at hotel. Morning checkout and drive to Agra Via Mathura, Mathura, a little town on the River Yamuna was transformed into a place of faith after Lord Krishna was born here which makes Mathura an important place of Pilgrimage today. Visit the Birth Place of Lord Krishna and also visit some other temples of Mathura. Continue drive to Agra. On arrival at Agra check in to hotel.
Overnight stay at hotel in Agra.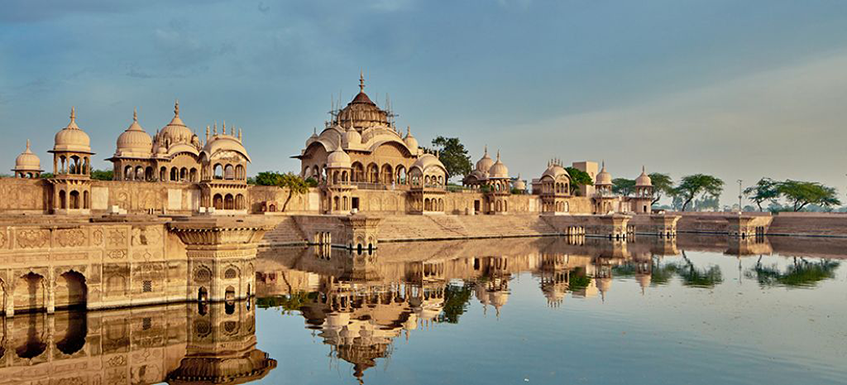 Day 03: Agra – Delhi 220 kms, 04 hrs drive approx
Early morning proceed for sightseeing of the world famous Taj Mahal (its closed on every Friday) built by Mughal Emperor Shah Jehan for his Empress Mumtaz Mahal. The construction believed to have taken 22 years to complete with over 20,000 craftsmen working round the clock.
After visit Taj mahal back to Hotel for Breakfast. Then proceed to visit magnificent Agra Fort, built in the bank of Yamuna River, is situated in the center of the town. Various styles of the architecture are evident within the Fort and demonstrate the love of Mughal Emperors Back to hotel.
Afternoon checkout and drive to Delhi. On arrival in Delhi check into the the Hotel. Overnight stay at hotel in Delhi.

Day 04: Delhi – Haridwar 219 kms, 05 hrs drive approx
Breakfast at hotel. Morning checkout and drive to Haridwar. Upon arrival check-in into Hotel. Afternoon visit various temples including Pareshwar Mahadev Temple, Daksha Mahadev Temple and Mansa Devi Temple.
Evening visit Har-ki-Pauri (the footstep of God) – one of the most sacred ghats in India. People say that this ghat was built by Vikramaditya in memory of his brother Bhartrihari. This ghat is also known as Brahmakund. Later witness Aarti of the Holy River Ganges. Aarti is the beautiful ceremony in which deeyas (the oil lamps) are offered to God. Aarti can be done to a deity in the temple or it can be done to a saint. It is performed to God, in any manifestation, any form, by any name. The essence of the aarti ceremony is a time when we say "thank you," and we offer the light of our thanks, the light of our love and the light of our devotion. We realize that the small deeya is nothing compared to the divine light which shines on us all day.
Overnight stay at hotel in Haridwar.

Day 05: Haridwar – Rishikesh – Haridwar 30 kms, 05 hrs drive approx
Breakfast at hotel. Morning drive to Rishikesh, known as the 'place of sages', at the confluence of the Chandrabhaga and Ganga. It is believed that God by the name of 'Hrishikesh' had appeared as an answer to the hard penances by Rabhiya Rishi and henceforth the place derived its name.
In Rishikesh visit Laxman Jhula- a hanging bridge on the river Ganga is one of the most famous spot in Rishikesh. According to Indian mythology, Lakshman, the younger brother of Lord Rama crossed the Ganga with the help of hanging bridge made of Jute. The bridge offers a scenic view of the river Ganga as it tumbles down to Haridwar. Also visit Bharat Mandir – the oldest temple in Rishikesh, near the Triveni Ghat. This temple is dedicated to Bharat, the younger brother of Lord Ram. Swarga Ashram Later drive back to Haridwar. Lunch at Hotel. Rest of the day free for your own. Dinner & Overnight stay at hotel in Haridwar.

Day 06: Haridwar – Kurukshetra – Delhi + Departure
Breakfast at hotel. Morning check out from the hotel and drive to Kuruksetra. Upon arrival at Kurukshetra visit Jyotisar, Bisma Kunda and Brahma Saroar. After visiting Kuruksetra drive to Delhi (157 kms 03 hrs drive approx). On arrival at Delhi transfer to the airport to connect flight for your onward destinations.