SOUTHERN SPLENDOUR TRAIN - (7 Nights / 8 Days Detailed Itinerary)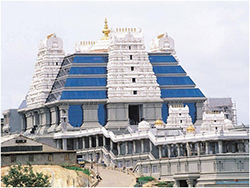 Day 01: Mon: Bangalore Depart
Report in Lobby of Hotel Taj West End by 4pm for Check-In formalities of Southern Splendour train, followed by high tea, brief train tour presentation & cultural program. Proceed to visit ISKON Hindu Temple, before reaching Yashwantpura Railway Stationby 815pm to board the Southern Splendour – Golden Chariot Train. At 9pm train departs. Dinner is served onboard.

Day 02: Tue: Chennai & Mahabalipuram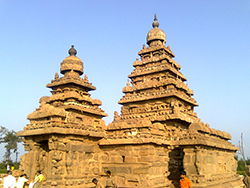 Train reaches Egmore Railway Station Chennai by 930 am & depart for sightseeing After visiting Santhome Cathedral built over tomb of apostle St Thomas & drive through Marine Bay Road Drive proceed for excursion to Mahabalipuram Beach (1.5 hrs).
In Mahabalipuram visit 8th century built stone cut Hindu temples complex located on the seasho  re & now an UNESCO World Heritage Site. Take a break from the journey & have sumptuous lunch at beach side 5-Star Resort. Later drive 2.5hrs onwards to Pondicherry Railway Station to board the awaiting train. Dinner onboard.
NOTE: After dropping passengers at Chennai, the train proceeds empty to Pondicherry.

Day 03: Wed Morning : Auroville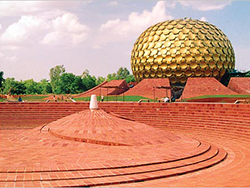 After breakfast drive 1.5hrs to Auroville Ashram. Conceived in 1968,the meaning of Auroville only becomes clearer in the context of the vision of its founders, which has stimulated people from all over the world to join in this laboratory of evolution. Enjoy screening on Auroville Ashram, tour of Auroville Ashram, Matra Mandir and shopping in the Ashram.
Later Drive back to Pondicherry town for lunch in boutique restaurant & return to train for brief rest

Day 03 Late After Noon: Pondicherry
Visit Aurobindo Ashram (former residence of founder of Auroville) & 17th Century built Ganesh Hindu Temple. Enjoy stroll through 19th Century built cobbled streets called Latin quarters, built by former French Colonial rulers & time free on Promenade Beach. Later return to the railway station to board the train for Dinner & depart

Day 04: Thurs: Morning: Tanjavur (Tanjore)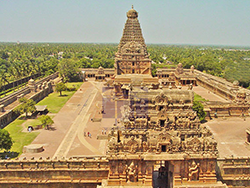 Tanjavur is popular for Chola bronze collection and 3 Dimensional paintings done in gold leaf.
After breakfast, visit the famous – Brihadeshwara Temple complex, built in early 11 Century & now a UNESCO World Heritage Site. The main temple dedicated to Hindu God Lord Shiva is  carved out of single granite rock, which weighs around 80 tons & has a bulbous structure on the top. The temple tower is 66 meters high.
Facing the temple is a big statue of Nandi (Sacred Bull) again carved out of single rock, measuring 16 feet long & 13 feet high. Later visit Former Royal Palace with an interesting museum, art gallery & Library.
After lunch in Tanjore Hotel, Depart by road for Trichy Town (1.5hrs drive)
NOTE: After dropping passengers at Tanjore Railway Station, the train runs empty to Trichy.

Day 04: Thurs: Afternoon: Trichy (Tiruchirapalli)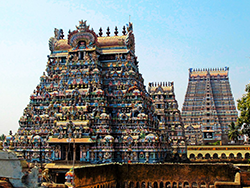 Visit the Sri Rangam Temple, dedicated to Hindu God Lord Vishnu. The main entrance raises from base area of 5720 sq feet & goes up to 237 feet, moving up in eleven progressively smaller tiers. The temple is enclosed by 7 concentric walls with total length of over six miles. The complex has 21 towers, 39 pavilions, fifty shrines, hall of 1000 pillars and several small water bodies inside. Non-Hindus are  allowed up to the second outer courtyard but not inside the gold topped sanctum sanctorum.
Later Drive to Trichy Railway Station to board the train for Dinner & depart.

Day 05: Fri: Morning: Madurai Temple Visit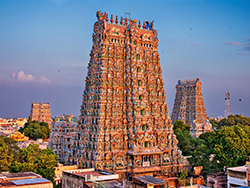 Madurai has been inhabited since at least the 3rd century BC. Madurai is famous for its silks, pearls and spices. It was this lucrative trade that let its Pandyan kings to erect the mighty Meenakshi temple in 13th Century.
After breakfast Visit the Meenakshi Sundareswarar Temple,dedicated to Hindu Goddess Paravti(consort of Lord Shiva).The present temple was reconstructed in 17th century & houses 14 gateway towers, tallest of which is 170 feet high. There are an estimated 33,000 sculptures in the complex with two golden structured shrines over the main deities in the inner sanctum. Later return to train for lunch & brief rest.

Day 05: Fri: Evening : Madurai Sound & Light Show
Evening visit 17th century built Thirumalai Nayak Palace, to savour the history and culture of Tamil Nadu at the sound & light show based on Silappatikaram, one of great epics of Tamil Literature. Later return back to train for dinner & depart

Day 06: Sat: Morning: Kanyakumari & Wooden Palace
Early Morning train reaches Nagercoil Railway Station & by 5am proceed for excursion (30 minutes drive one way) to sunrise point at Kanyakumari. This location is the southernmost tip of Peninsular India & meeting place of three oceans- the Bay of Bengal, Indian Ocean and Arabian Sea. After breakfast on the train & brief rest, proceed for excursion (30 minutes drive one way) to early 17th Century built Padmanabhapuram Wooden Palace, one of hallmarks of traditional Kerala style architecture.
Later return to the train at Nagercoil Railway Station & depart. Lunch on board.
Day 06: Sat: Evening: Kovalam Beach (Near Trivandrum)
Train reaches Kochhuvelli Railway Station (Near Trivandrum) b y 4:30PM and drive 45 minutes to World famous Kovalam Beach on the Arabian Sea. Time free on the beach followed by dinner & cultural program at leading 5-star beach resort. Return back to train by 1030pm & depart.


Day 07: Sun: Morning: Alleppey (Kerala Backwaters)
Proceed at 930 am to Alleppey Jetty Point & board Kettuvallam (traditional houseboat having coir ropes tied in knots holding the entire wooden plank structure together) to enjoy Cruise through backwaters of Punnamada Lake & onboard lunch. Return to Alleppey Jetty Point by 230pm & board buses for onwards 2 hrs drive to Cochin.

NOTE: After dropping passengers at Alleppey, the train runs empty to Cochin.
Day 07: Sun: Late Afternoon: Fort Kochi Town
On Arrival in 16th Century built Fort Kochi Town, proceed to explore Chinese Fishing Nets, Jew Synagogue & local spice market. Later Drive to Ernakulam Railway station to board the train & depart. Dinner onboard.

Day 08: Mon: Bangalore Return
Your journey ends at 11 am on arrival at Yeshwanthpur Railway Station, Bangalore.