BHUTAN – KINGDOM IN THE SKY
06 NIGHTS / 07 DAYS (Paro – Thimphu – Trongsa – Punakha – Paro)
Day 01: Arrive Paro by Druk Air / Thimpu (55 km, 2 hours)
The flight into Bhutan takes you over the great Himalayas, offering the scintillating scenery of the world's highest glacial peaks. As you enter Paro valley, you will see the silvery Pa Chu (Paro river) meandering down the valley, the Paro Dzong (fortress) and Ta Dzong (watch tower). On arrival, received by our representative and transfer to Thimphu (55 km, 2 hours), the modern capital town of Bhutan. Overnight in Thimpu.
Day 02: Thimphu
Today's full day of sightseeing in Thimphu valley includes, visit to; National Library; it holds a vast collection of ancient Buddhist texts, manuscripts, modern academic books and printing blocks for prayer flags. Painting School; famous for traditional thangkha paintings. Textile & Folk Heritage Museum; a fascinating testimony of Bhutan's living traditions.
Memorial Chorten: The beautiful stupa built in the memory of Bhutan's third King. The paintings and statues inside the monument provide a deep insight into Buddhist philosophy.
Trashichhodzong: The beautiful fortress/monastery which houses Secretariate building, King's Throne room and other government's offices. It is also the summer residence of Chief Abbot.
Handicrafts Emporium: It displays wide assortment of beautifully handwoven and crafted products. Overnight in Thimphu.

Day 03: Thimphu / Trongsa (200 km, 6 hours drive)
After early breakfast, drive to Dochula pass (3,080m). If the weather permits, you can see a range of high Himalayan peaks towards the north east. Following peaks can be seen from this pass, on a clear day ; Masagang (7,158m), Tsendagang (6,960m), Terigang (7,060m ), Jejegangphugang (7,158 m ), Kangphugang (7,170 m ), Zongphugang (7, 060 m ), a table mountain that domiates the isolated region of Lunana – finally Gangkar punsum, the highest peak in Bhutan at 7,497m.
Further drive onwards arriving Wangduephodrang town for lunch. The descent from Dochula into Wangdiphodrang valley is quite long as the altitude difference is 1,700 meters.
Proceed to Trongsa across Pelela pass (3,300 m), the traditional boundry between east and west. The pass is marked by a large prayer flag and the ground is covered with high altitude dwarf bamboo. Stop enroute at Chendbji Chorten, which was built in 18th century by a Lama named Shida, it is Nepalese in style with eyes painted at four cardinal points. Arrive Trongsa and check into the lodge. Overnight in Trongsa
Day 04: Trongsa / Punakha (135 km, 4.1/2 hours drive)
After breakfast walk by Trongsa Dzong built by Shabdrng in 1647 and visit the Ta Dzong (watch tower), dedicated to Buddhist epic hero, King Gesar of ling. After lunch drive to Punakha en route visiting 17th century majestic Wangdue Dzong followed by visit to local market. The district of Wangduephodrang is also famous for its bamboo products, slate and stone carvings. Overnight in Punakha.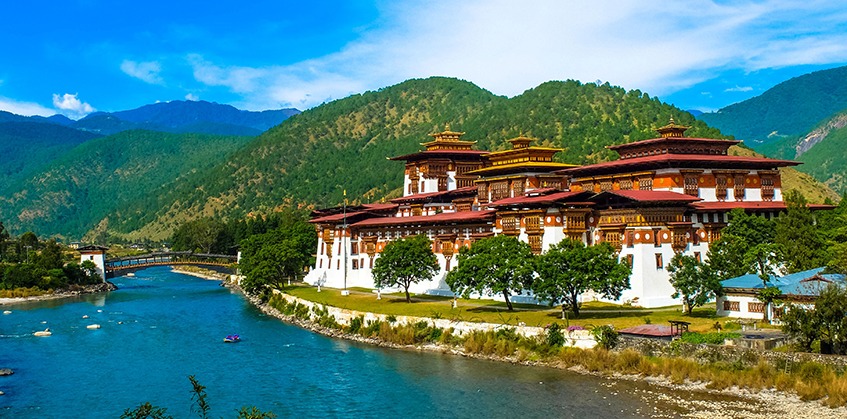 Day 05: Punakha / Paro (125 km, 4.1/2 hours drive)
Morning visit Punakha Dzong, a massive structure built at the junction of two rivers. It was the capital of Bhutan until 1955, and still serves as the winter residence of the monk body. The first King, Ugyen Wangchuck was crowned here in 1907. The fortress has withstood several damages from fire, earthquake and flood. The latest flood of Oct' 1994 caused great damages to the fortress but miraculously spared the statue of Buddha Jojampa.
After lunch, proceed to Paro en route visit traditional Bhutanese farm house which offers good insight into lifestyle of local people and their culture. On arrival in Paro, check into the hotel for overnight in Paro.

Day 06: Paro
Today's full day sightseeing in Paro valley includes, visit to Ta Dzong, the National Museum which in the past served as watch tower for the Paro Dzong. Then walk down the trail to visit Paro Dzong (Rinpung Dzong) built in 1646 by Shabdrung Ngawang Namgyal.
After lunch drive to Drukgeyl Dzong, built in 1647 by the Shabdrung to commemorate Bhutanese victory over the Tibetans in war of 1644. Also en route visit Kyichu Lhakhang, one the oldest and most sacred shrines of the Kingdom. Overnight in Paro.

Day 07: Depart Paro by Druk Air
After breakfast drive to the airport to connect flight for your onward destination.