Overview
Redefining luxury train travel since 2010, Maharajas Express is the latest and most luxurious train in India. Offering 5 fascinating journeys crisscrossing some of the most vibrant destinations, significant attractions and offering a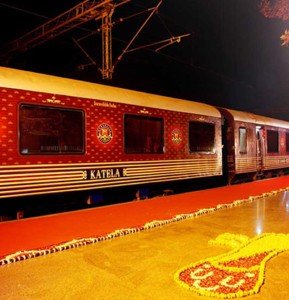 vista of breathtaking landscape, culture and heritage with which India is blessed; Maharajas Express offers journeys to the very depth of the soul of India in sheer opulence.
There are 14 guest carriages which constitute plush accommodation for guests. 20 deluxe cabins, 18 junior suites, 4 suites and a truly classy Presidential Suite spanning over entire carriage exude finesse previously unseen in train carriages. All cabins have their individual climate control and are equipped with amenities such as bathroom, Wi-Fi internet, electronic safe, live TV with satellite channels and direct dial phones. Dining facilities aboard Maharajas' Express train offered in 2 suave restaurants each with a seating capacity of 44 guests at a time. Dining experience during Maharajas Express is a gourmet's delight with menu including authentic Indian, Chinese and Continental cuisine among others. Food prepared from fresh ingredients by top chefs is tastefully presented for the platter of the guests. Besides on board restaurants, dining at some of the top 5 star heritage hotels during the journey ensure that guests get to savor the best of Indian and international cuisines.
Other on board facilities include a well stocked bar with refined interiors and laid back ambience, a observation lounge with library and personal bar and a high-end boutique with exquisite creations.
With world class amenities, exquisitely designed interiors, gastronomic dining and vibrant on board ambience, Maharajas Express journeys are invariably suffused with romance, adventure and style. Chugging along some of the most scenic landscapes, most alluring cities and offering an insight of India like no other journey, Maharajas Express unravels the confounding Kaleidoscope of India bringing out the million images of tigers, snake charmers, spirituality, mountains, jungles, deserts, forts, palaces, dances, cuisines, romance and dreams. Welcome aboard for a rediscovery of India on a journey like no other on earth in a train like no other.
Maharajas' Express The Heritage of India – Itinerary
Duration: 7 Nights / 8 Days
Destinations Covered
Mumbai – Ajanta – Udaipur – Jodhpur – Bikaner – Jaipur – Ranthambore – Agra – Delhi
The itinerary of the Heritage of India tour includes the "city of lakes" Udaipur, the "pink city" Jaipur, the immortal beauty Taj Mahal. Also included in Maharajas Express itinerary ia the cultural hubbub of local sightseeing tour and shopping excursions, spa and royal banquets at select destinations.
Maharajas' Express Treasures of India – Itinerary
Duration: 3 nights/4 days
Destinations Covered
Delhi – Agra – Ranthambore – Jaipur – Delhi
Treasures of India tour itinerary is the latest in the repertoire of India's most luxurious train tour aboard Maharajas Express. Tastefully crafted to cater to the guests who are running on tight schedule, this luxury rail journey spanning over 4 days combines the best of the luxury train tours in sheer opulence. Offering a peek into some of the greatest masterpieces of Indo-Islamic art, Maharajas Express Treasures of India offers a mesmerizing trip across most royal destinations in India.
Maharajas' Express Gems of India – Itinerary
Duration: 3 Nights / 4 Days
Destinations Covered
Delhi – Agra – Ranthambore – Jaipur – Delhi
The newest of the whirlwind tours offered by the Maharajas Express, the Gems of India offers majestic ride to the renowned golden triangle tour circuit in India comprising of Delhi, Jaipur and Agra. The journey spanning over 4 days let you explore the master creations of men along with a dash of wildlife at the Ranthambore National Park.
Maharajas' Express The Indian Splendor – Itinerary
Duration: 7 Nights / 8 Days
Destinations Covered
Delhi – Agra – Ranthambore – Jaipur – Bikaner – Jodhpur – Udaipur – Balasinor – Mumbai
A meticulously crafted itinerary which includes a dash of royalty, palaces, forts, sand dunes, wildlife and cultural excursions will bring out the best of the India's royal traditions, art and vibrant culture. A journey spanning over 8 days and 7 nights in the magnificence of Asia's most luxurious train brings our an amazing concoction of the myriad hues of this vast and diverse land. Adding to the royal experience is the delectable cuisines, impeccable hospitality and guided off-train excursions bringing out the best of the splendors of the incredible India.